This Accessibility Statement applies to: joolz.com

We Value Digital Inclusion
In our effort to provide a fully accessible and optimized user experience for all site visitors, AudioEye has taken careful measure to ensure an excellent user experience, regardless of the assistive technology being used to access this site or the specific abilities of those individuals seeking access to this site.
The AudioEye website is monitored and tested regularly as part of a fully managed accessibility compliance process involving automatic and manual testing with the goal of identifying and resolving access barriers, conforming with the World Wide Web Consortium's (W3C) Web Content Accessibility Guidelines (WCAG) 2.1 Level AA Success Criteria, and ensuring an optimal user experience for all users, regardless of their individual abilities.
This website is regularly tested using a variety of assistive technologies.
We recommend using the following web browser / screen reader combinations for an optimized experience:
For Windows users: JAWS and Chrome or NVDA and Firefox
For Mac users: VoiceOver and Chrome or VoiceOver and Safari
For mobile users: VoiceOver for the iPhone and TalkBack for Android devices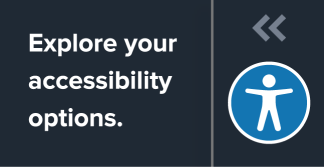 The AudioEye Toolbar provides Tools Tailored to Needs
The following tools may be available in the AudioEye Toolbar:

Player
Listen to the content of a web page read aloud

Visual Toolkit
Customize the visual display of the website

Site Menu
Navigate simplified menus using your keyboard or mouse

Page Elements Menu
Access page elements and regions with simple keystrokes

AudioEye Help Desk
Report accessibility related issues
AudioEye works with all modern, standards-compliant Web browsers, including the latest two versions of Chrome, FireFox, Safari, Microsoft Edge, or any browser with over 5% market share (global stats).